Animal Footprint Matching Cards
00031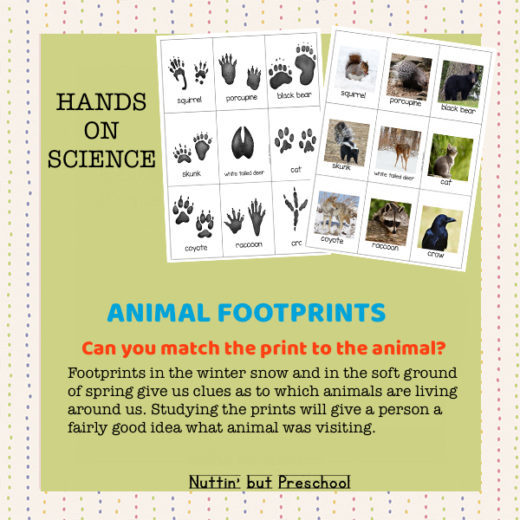 Animal Footprint Matching Cards
Set of animal footprint matching cards to the animal. There are two set listed here, one with the written animal names under them, the other set without.
Footprint In The...
Footprints in the winter snow and in the soft ground of spring give us clues as to which animals are living around us. Studying the prints will give a person a fairly good idea what animal was visiting.
How To Use The Cards
1.) There are two choices for cards below. The come in the zip file cards with writing or cards without writing set. The cards are full scale and in printable size.
2.) Print the cards on regular computer paper, cardstock or photography paper is best.
3.) Laminate both pages and cut apart one set of the cards.
4.) Match the cut cards to the uncut board.
Cards With & With Out Writing

You will receive both sets of cards.


Cards Without Writing
The cards without writing can be challenging. In the science center set up books with animal footprints along with magnifying glasses for the children to use to study and identify individual footprints.
For another twist purchase the 9 animal footprints matching wall card and have the children study them and match the animals to their footprints.